Technology Update in Cosmetic Gynaecology
Date: 03 September 2023 at ICCG Campus at Elle Sante "Luxe" Centre, Golf Course Road, Gurugram, New Delhi NCR
Duration: 1 day Updating Program in Cosmetic Gynaecology with Certificate issued by Indian College of Cosmetic Gynaecology
Program Accredited by: European College of Cosmetic Gynaecology, American College of Cosmetic Gynaecology, London College of Cosmetic Gynaecology, The Society of Cosmetic Gynaecology, Urogynaecology & Pelvic Health Association of India, Indian Institute of Reconstructive & Cosmetic Gynaecology.
Eligibility: ICCG Grads only
Program Director and Chief Trainer: Dr Navneet Magon Dean, Indian College of Cosmetic Gynaecology; Founder Head, Division of Reconstructive & Cosmetic Gynaecology, AIIMS, Rishikesh, Founder Program Director & Thesis Guide: M.Ch. Cosmetic Gynaecology, AIIMS, Rishikesh.
Fee: INR 11,800 (inclusive of all applicable taxes) (Including Tea/Coffee/Cookies, Lunch, ICCG Scrubs for use and all disposables).
ONLY LIMITED SEATS AVAILABLE – First Come, First Serve
Location: Elle Sante "Luxe", Golf Course Road, Gurugram, New Delhi NCR.
Admission: CLICK HERE TO APPLY FOR THIS COURSE (For any Course Related Query Please Call ICCG Office at +91-8954422222 or Contact us on WhatsApp at +91-8954422222)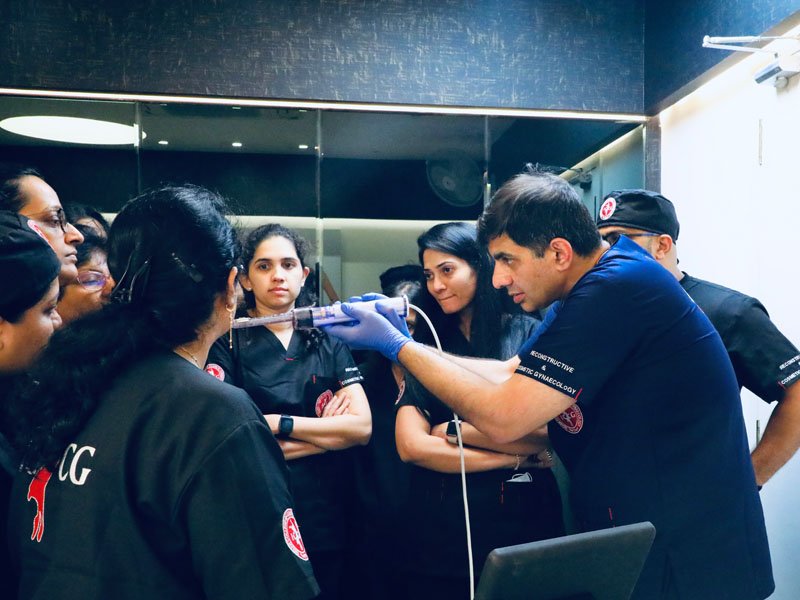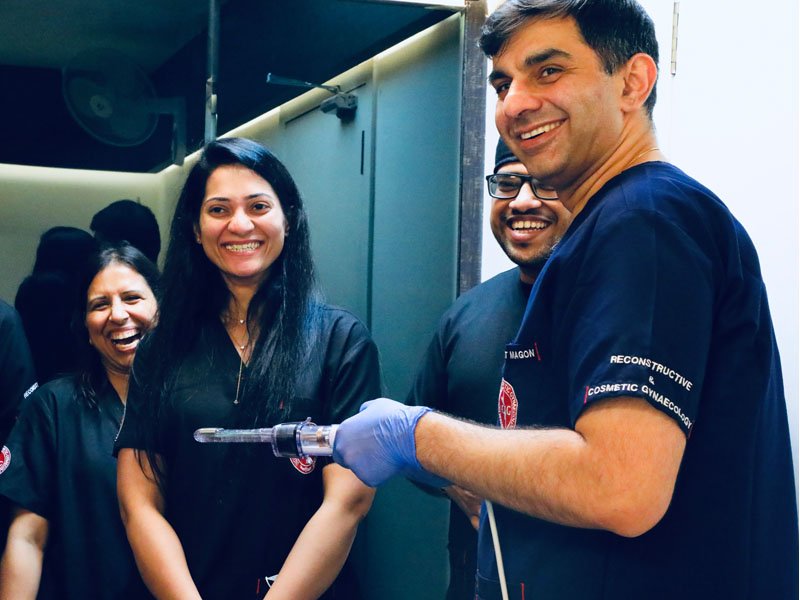 In various Diploma, Masters & Fellowship programs in Cosmetic Gynaecology & Urogynaecology, ICCG trained more than 300 doctors in past one year & gave them the most coveted label of ICCG Grad in last one year in, which is the biggest number anywhere in the world. Since we at ICCG always strive to keep updating our content as well as integrating any new technology available globally into our training programs, provided it is safe & useful, so it is obvious that our Grads who graduated with us last year would need an update program to keep them abreast with the latest.
In last one year, there have been lots of advances in technology and new technologies like Vaginal Plasma Jett (Latest path breaking, cutting-edge and effective, portable and affordable technology), Vaginal Micro-needling (on a platform based system with RF) and many new Lasers with specific Gynaecological wavelengths, new magnetotherapy devices, new radiofrequency devices and many other devices have been added to the training armamentarium at ICCG. ICCG Grads also benefit from heavy discounts which all companies offer to ICCG Grads for equipment which is almost 30-50% less than the best negotiated market prices. 
This hands-on Technical Update in Cosmetic Gynaecology is a premium program available exclusively for ICCG Grads only at the world's best equipped, state of the art Elle Sante "Luxe" Centre located in DLF-3, Gurugram, New Delhi NCR. ICCG Grads shall have first-hand experience of latest of plasma machines, laser machines, radiofrequency machines, magnetotherapy machines, refrigerated centrifuge used for PRP preparations, and other new devices used in Cosmetic Gynaecology.
PROGRAM:
TECHNICAL UPDATE IN COSMETIC GYNAECOLOGY
Program Director & Faculty: Professor (Dr) Navneet Magon, India 
Minute to Minute Structured Program

0930-1030hrs

Registration & Catching-up over Coffee

1030-1130hrs

ICCG Grads to share their experiences & difficulties they face

1130-1200hrs

New Technology in Cosmetic Gynaecology: Part 1

1200-1230hrs

New Technology in Cosmetic Gynaecology: Part 2

1230-1300hrs

New Technology in Cosmetic Gynaecology: Part 3

1300-1330hrs

New Technology in Cosmetic Gynaecology: Part 4

1330-1430hrs

Working Lunch & Open House with Dr Navneet Magon

1430-1500hrs

Live Demonstrations & Supervised Hands On

1500-1530hrs

Live Demonstrations & Supervised Hands On

1530-1600hrs

Live Demonstrations & Supervised Hands On

1630-1730hrs

Fine-tuning Individual Requirements for ICCG Grads

1730-1830hrs

Feedbacks, Certifications & Photography
This Technological Update in Cosmetic Gynaecology is a must for all ICCG Grads who wish to update in the field of Cosmetic Gynaecology & all attended stand to gain immensely from this program. ICCG has curated this program to keep ICCG Grads at the top of Cosmetic Gynaecology training so as to help them overcome difficulties which they may have encountered after their initial training, besides updating them with the latest.